---
WORK ROV'S
---
The Work ROV criteria is normally that it is a large Vehicle that can be fitted out with heavy duty Manipulators and Hydraulic tooling and sophisticated electronic sensors.
The Work ROV has developed from low powered electrical and hydraulically powered vehicles (typical 10 HP max) to today's Work ROV's with up to 200 Hp available for thrust and tooling.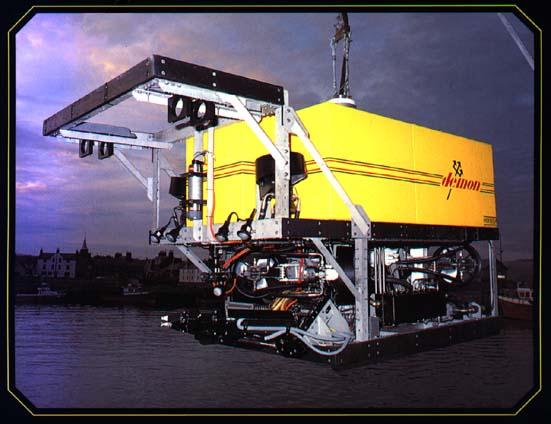 The Work ROV's has developed slowly to now very reliable vehicles that can operate for short and long duration's underwater without needing to return to the surface for maintenance or retooling.
The Work ROV has been pushed to the forefront of technology mainly because the Underwater Industry has seen a need to replace or at least have a backup to the Deep-sea Diver, safety for man in the water is coming more and more into play and the ROV is seen as a good alternative were the Underwater conditions are hazardous in any way or were a Deep-sea Diver might endanger his life performing an Underwater Operation.
Some Underwater Tasks are more suitable for a Working ROV than a Deep-sea Diver due to the mobility and ease of deployment and speed of Underwater Surveys.
The Price Range of the Working ROV systems range from $ 500,000 to $ 5,000,000
This list is as complete as I can make it with the information I have today.
---
WORKING ROV's
SCORPIO, Amatek Straza
RCV 150, Hydro Products
DEMON, Hydrovision Ltd.
DIABLO, Hydrovision Ltd.
HYSUB, ISE
RECON I, Perry Offshore
RECON IV, Perry Offshore
PIONEER, Subsea International
SUPER SCORPIO, Amatek Straza
STEALTH ROV, Hitec Subsea
CHALLENGER, Perry Offshore / Sonat Underwater Services
TRITON, Perry Offshore
VIPER, Perry Tritech Inc.
Trojan ROV, Slingsby Engineering
RIGWORKER, OSEL
SCORPION, Perry Tritech Inc.
MRV, Slingsby Engineering
TRITON XL, Perry Tritech Inc.
MAGELLAN, Oceaneering International
TRITON MRV, PerrySlingsby Systems
TRITON SP, PerrySlingsby Systems
TRITONZX, PerrySlingsby Systems
VENOM, Hydrovision Limited
---